Wholesale Design Sessions
Our wholesale design sessions are created to help small & growing value brands design in the most cost effective way. It's all about turning your vision into a real-life design.
This kind of session is designed to help start-up and growing brands compete with the huge value brands (think large gym, athletic and street brands). Utilising pre-made wholesale garments is exactly how to do this!
In every design session you work alongside one of our designers, on a one-to-one basis online via Zoom. We do all the drawing and technical work while advising and helping you through the entire session by sharing our expertise and honest advice.
After every design session you will have the mockups you need for sampling and bulk production. In these sessions we design to your needs across a wide range of 1000+ pre-made items that we attach your graphics to. These include dresses, t-shirts, trousers, cargos, joggers, swimwear, basic underwear, hoodies, tops, basic outerwear, etc. 
We'll also create simple graphics if needed and guide you through the huge range of pre-made wholesale garments to the ones that suit your quality and pricing level. We'll show all base garment pricing and give guide graphic application pricing. 
Choose from our range of wholesale design sessions below: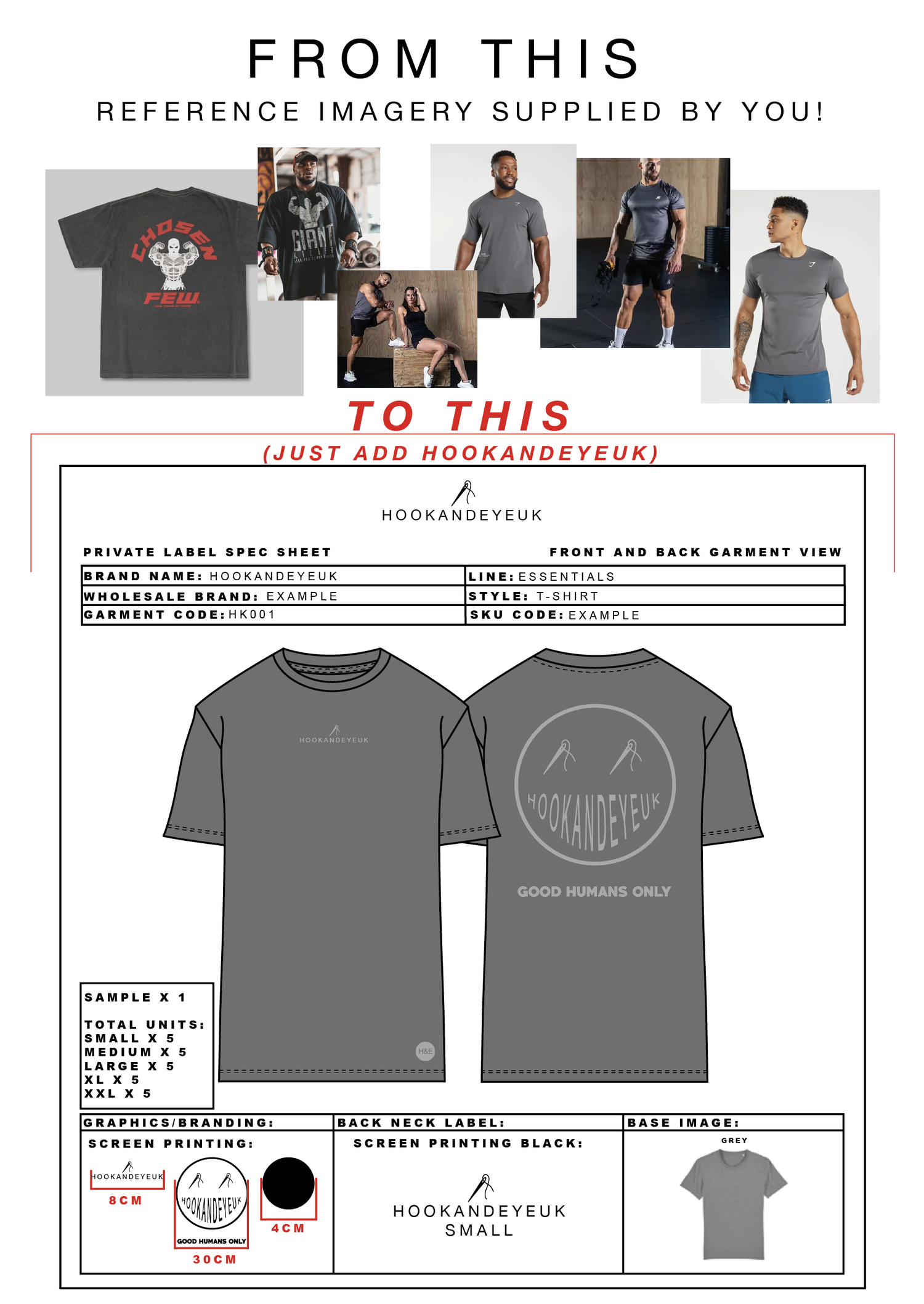 What the wholesale design session includes
You will work with an expert designer to develop mockups for your clothing brand. You bring the vision for what you want to create, we bring the expertise to turn it into a fully-fledged mockups that can be taken to sampling and manufacture. Your mockups will come in clear line drawings with annotations and pre-made garment selections which will enable our team manufacturer to follow exactly how you want your clothing to come out.
This is a crucial step for any clothing brand, and working with Hook & Eye UK to get this done properly will save you a lot of time and money down the line as you move forward with your clothing manufacture.
FAQs
Q. What is a value brand?
A. A value brand is classed as a brand selling garments under a certain pricing level. Example RRP's; t-shirt £20-£40, Hoodie £25-£80, Joggers £25-£70. 
Q. What is a wholesale garment?
A: This is a pre-made garment. A blank clothing item that is ready to be customised with your graphics. There is a huge range of choice with wholesale garments however you cannot change the base items in any way, you can only add graphics to personalise for your clothing brand. Utilising wholesale garments is a very cost effective way to build a lower value level clothing brand. A value brand would be charging between £20-£40 for a t-shirt to their customers.
Q. Can you make my designs and mockups for me?
A: Yes, we can. Our wholesale design sessions allow you to sit one–to–one with one of our designers via an online session. They will design with you and draw all your mockups up for you. Our expertise in creating mockups makes it easy for you to walk away with a perfect mockup that will make your life so much easier when you go to sampling and manufacture.
Q. What is the difference between wholesale and cut and sew?
A. Essentially a wholesale garment is a pre-made garment that is in stock and can only be changed by adding graphic applications. A cut and sew garment is made from scratch to your custom fit and fabric needs along with any graphic applications. Generally wholesale garments are used to create low value brands and cut and sew garments are used for bridge and high end brands. To read more click here.
Q. How quickly can I book a wholesale design session?
A. You can purchase a wholesale design session online at any time, it will depend on the slots available but typically customers book design sessions within a week of purchase. Design sessions are normally help between 8am and 5pm (UK time) Monday - Friday. 
Q. Can you give pricing from our mockups?
A. If they are detailed enough, yes.